Deeply buried continental crust under Iceland
T.H. Torsvik, Centre for Earth Evolution and Dynamics and Dept. of Geosciences, UiO
R.G. Trønnes, Centre for Earth Evolution and Dynamics and Natural History Museum, UiO  
The thick crust of Iceland and the surrounding Iceland plateau is generated mainly by accumulation of young magmatic rocks and is therefore oceanic in nature. Geochemical and geophysical data, however, indicate that fragments of continental crust are also present beneath the southeast coast of Iceland. In a new article in Proceedings of the National Academy of Sciences (PNAS), Torsvik et al. (2015) suggest that a continental sliver, representing a south-western extension of the Jan Mayen Microcontinent, is deeply buried under a thick pile of volcanic rocks.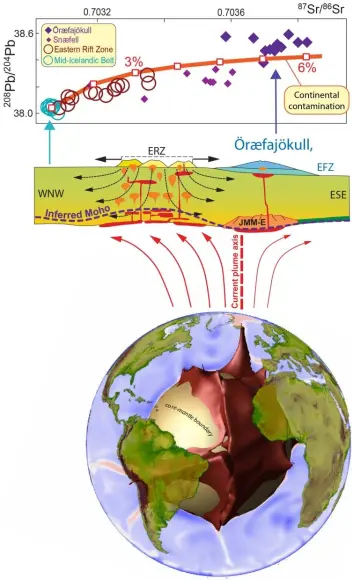 Iceland and the surrounding plateau, straddling the Mid-Atlantic ridge, are lifted above sea level by a light and hot column of rocks (mainly peridotite), flowing slowly upwards from the Earth's deep interior (Fig. 1). The low-density hot rocks in the plume undergo partial melting near the surface due to pressure release, resulting in high magma supply to the Icelandic rift zones and their flank zones. This leads to thick oceanic crust under the shallow plateau and the subaerial part (Iceland) of the northeast Atlantic. Recent estimates of the Iceland plume flux of 40-60 km3/year indicate that it might be 4-10 times that of the Hawaii plume flux (Jones et al. 2014). Therefore, the current Iceland plume seems to be the Earth's most vigorous plume.
Our inference that deeply buried fragments of continental crust occur beneath southeast Iceland is based on reconstructed movements of the Eurasian-Greenland (North-American) plates and the Jan Mayen Microcontinent, during and after opening of the northeast Atlantic 54 million years ago, and evidence that the southeast Iceland crust is especially thick (Fig. 2). The model is supported by the chemical composition of lavas erupted in the Eastern Rift Zone (ERZ) and from the Öræfajökull and Snæfell central volcanos in the Eastern Flank Zone (EFZ) of Iceland. In particular, the isotope ratios of the elements Sr, Nd and Pb in the lavas of the ERZ and EFZ, define a continental crust contamination trend, with up to 6% contamination in some of the Öræfajökull rocks (Fig. 1).
The realization that continental fragments may be buried under southeast Iceland provides new insights into the complex evolution of the northeast Atlantic, in particular, and into the interaction of deep mantle plumes with continental break-up, plate separation and rift jumps, in general. There are several examples of such interactions in the Tethys and Indian Ocean domains during the break-up and dispersion of the Pangea supercontinent, especially related to the separation of India, Australia, Africa and Antarctica (e.g. Gaina et al. 2003). Torsvik et al. (2014) reported the discovery of late Proterozoic zircon xenocrysts in basalts from Mauritius, pointing to hidden continental crust also beneath that ocean island. Intraoceanic continental fragments appear to be much more abundant than previously thought and caution is therefore recommended in interpreting (enriched) geochemical signatures in ocean island basalts.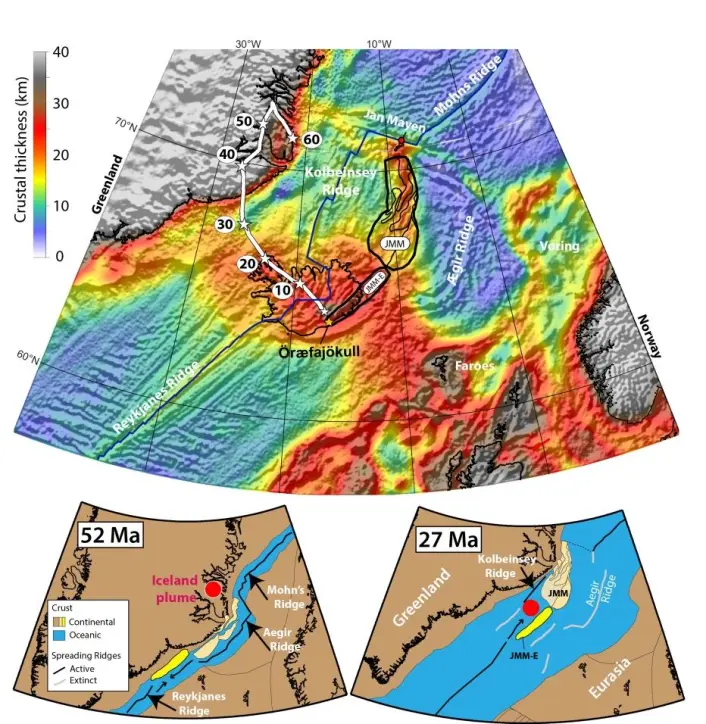 References
Gaina, C. et al. (2003). Microcontinent formation around Australia. Geol. Soc. Austr. Spec. Publ. 22, 399-410.
Jones, S.M. et al. (2014). A joint geochemical–geophysical record of time-dependent mantle convection south of Iceland. Earth Planet. Sci. Lett. 386, 86-97.
Torsvik, T.H. et al. (2014). A Precambrian microcontinent in the Indian Ocean. Nature Geosci. 6, 223-227.
Torsvik, T.H., Amundsen, H.E.F, Trønnes, R.G., Doubrovine, P.V., Gaina, C., Kusznir, N.J., Steinberger, B., Corfu, F., Ashwal, L.D., Griffin, W.L., Werner, S.C., Jamtveit, B. (2015). Continental crust beneath southeast Iceland. Proc. Natl. Acad. Sci. www.pnas.org/cgi/doi/10.1073/pnas.1423099112