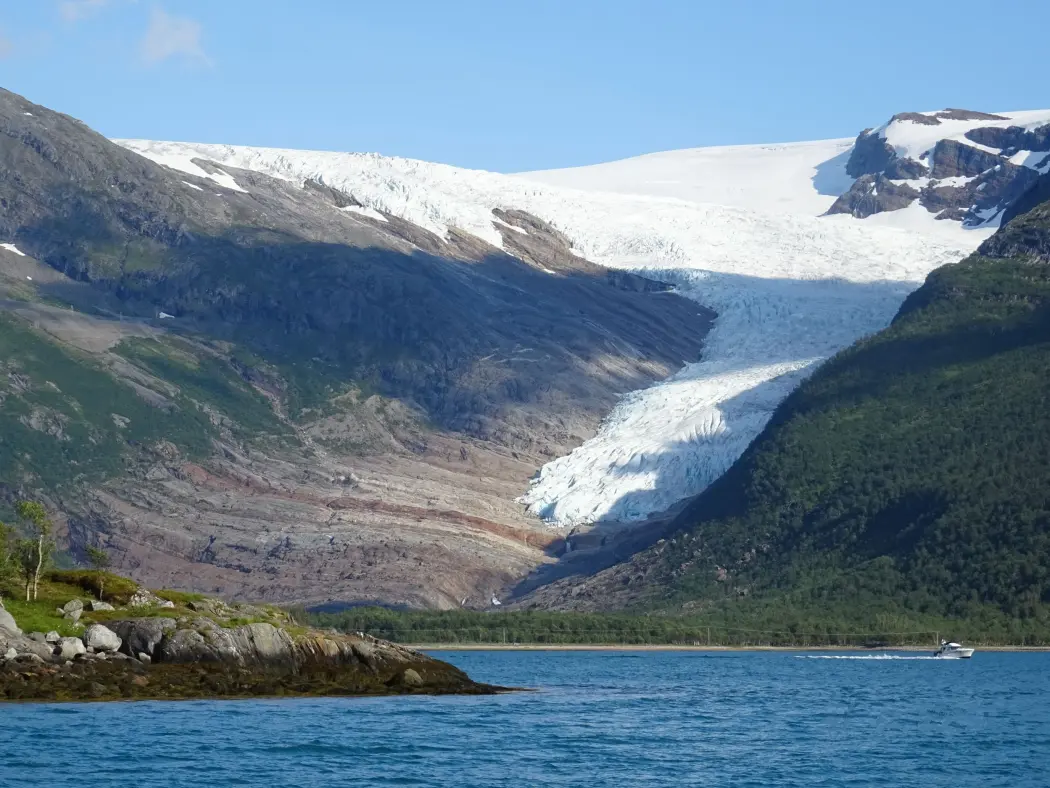 Arrival at Svartisen
On the 17th of July, our advisor Miriam Jackson and the three of us (French students Perrine, Sophia and Juliette) made an excursion from their internship in glaciology at the NVE in Oslo to the Svartisen Subglacial Laboratory.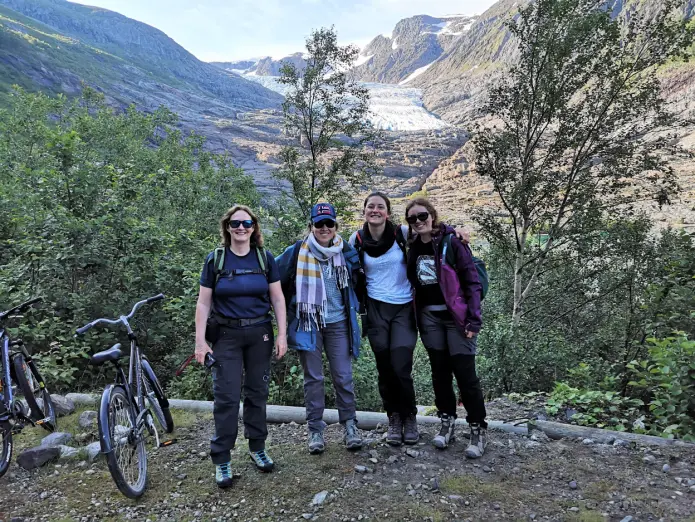 Everything began on a sunny day, when Miriam drove the car to the boat dock at Holansdvika. We were all three extremely excited when we saw the landscape on the way and we couldn't wait to see a glacier for the first time!
When we got on the boat, we knew it would be an amazing day. The sky and the water were brighter than usual, the wind was cold but the sun made us enjoy the trip. The boat was slowly crossing the fjord when behind a hill, we could finally see Engenbreen lying there above the lake.
We finally arrived at the Svartisen harbour and went on a bike to the cabin Miriam had rented for the next two nights. We really enjoyed the view we had from the window on the glacier, and appreciated the location next to the lake, in the forest, surrounded by mountains.
Later in the evening, we met Guro Kvalnes and Dag Endre Opedal, coming from Kraftmuseet at Tyssedal to make the trip to the tunnel with us and have an interview from Miriam. In order to celebrate the arrival at Svartisen, we all shared an ice cream in front of the ice!
On 18th of July, we met Guro and Dag Endre around 8:30am to begin the excursion. We walked for several hours under the sun on the mountain rocks, changing of shape and colours all the way, having breaks to admire the view of the lake and the glacier.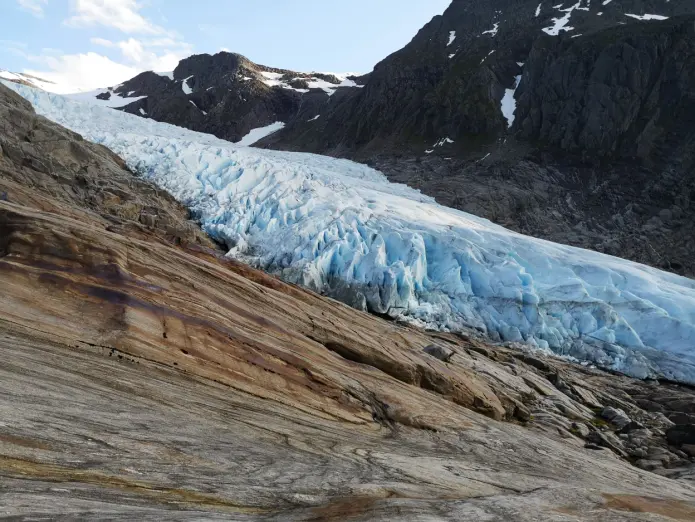 The reporter from the museum interviewed Miriam during the way up - unfortunately, it was in Norwegian so we didn't understand everything… But hopefully, we had already the context and the main content of the talk, mainly the glacier. We also watched just after this interview the photographer fly a drone to take pictures from above Engenbreen to illustrate their article. It was really entertaining!
After a climb through the trees and over the rocks excavated from the tunnel system during construction, we finally made it to the tunnel entrance, which was so small to see from down the mountain, but is in fact a big installation and we spotted another entrance to the tunnel system on the opposite side of the glacier, which is close to two of the stations used for the measurement of some hydrological data we worked on.
We finally prepared to enter the tunnel by putting on warm clothes, gloves and winter hats, and getting our headlamps ready.
When Miriam opened the door, we felt the chill and darkness of the tunnel going under the 200m-thick ice of Engenbreen glacier…